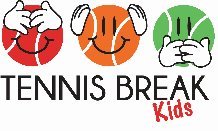 TENNIS FOR YOUNGSTERS
Tennis Break is designed to improve motor skills or just simply have a fun day outdoors. Aside from keeping young children occupied, there are a lot of other benefits that tennis classes provide for kids. Here are some of them.

1. Learning how to play tennis early on can improve energy levels and enhance an individual's confidence and optimism later on in life. There are studies that show who were taught how to play a sport like tennis in their formative have lowered the risk of experiencing extreme depression, anger, anxiety, tension and confusion as adults.

2. Tennis can also significantly help in a child's brain development since it requires mental alertness and logical or tactical thinking. This is one of the main reasons why many parents are enrolling their kids in infant tennis classes, preschool tennis classes or junior tennis classes.

3. These days we are all much less active: we sit around much more than we used to, at the expense of physical movement. The physical movements in tennis is good for our teenagers, and sport is ideal for those who balk at the thought of 'working out'. Taking part in a sport can have a great pay-off in terms of health.

4. Taking up tennis lessons helps kids to have stronger limbs and joints, ensuring them of a stronger body with better endurance later on as adults.

5. Enrolling your child in a kids tennis lesson also improves a child's flexibility, body coordination, eye-hand coordination, gross and fine motor control, speed and flexibility. The tennis basics of watching the ball and moving the feet all contribute to this physical development.
Therefore, we currently offer the following:
- Private and/or group lessons
- One hour of tennis combined with one hour of fitness
- Junior competition analysis
- Cardio tennis for all levels
- QuickStart Tennis for 10 year olds and under
- After schools programs from 5 to 10 and 10 to teens
- USTA Adopt-a-school program
- Tennis Day
- Yoga and Tennis